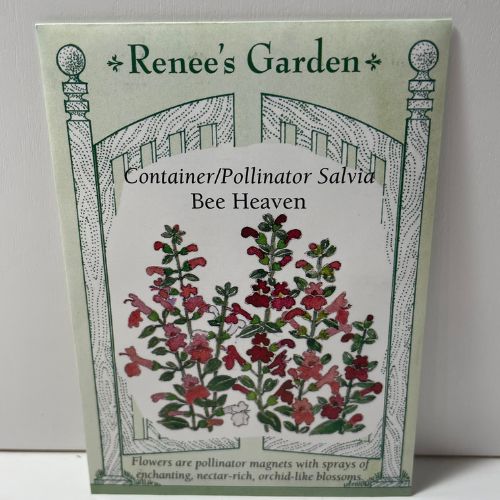 Bee Heaven Salvia
$2.95
$3.29
Renee's Garden - Our new variety is compact and earlier blooming than other salvias, with clouds of nectar-rich, blossoms in a mix of white, soft pink, and rose-red. Hummingbirds, butterflies, and other pollinators flock to these blossoms from dawn to dusk, and sprays of these charming flowers are lovely in mixed bouquets. Bee Heaven grows readily in a wide range of conditions and blooms continuously throughout summer. Ideal for containers or as easy-care, free-flowering border plants.   Characteristics:  Heirloom Selective  Butterfly & Hummingbird favorites  Great in containers  Pollinators & Beneficials  Tender perennial grown as annual  Summer/Fall bloom  Frost tender    Instructions - To start early indoors, start seeds indoors 4 to 6 weeks before the last frost date. Sow seeds 1 inch apart in a container of seed starting mix and cover very lightly. Keep moist but not soggy and provide a strong light source. When seedlings are about 2 to 3 inches tall, and night temperatures are above 50°F, acclimate to outdoor conditions and plant 8 inches apart.  To start outdoors, sow in well-worked beds or in containers in full sun only after night temperatures reach 50°F. Plant seeds 4 inches apart and covers very lightly. Keep soil evenly moist. Thin seedlings to 8 inches apart so plants have room to mature. To plant in a container, plant 4 seedlings in a 20-inch pot; 3 in a 16-inch pot, and 1 seedling in an 8-inch pot. Plants grow quickly to 12-18 inches tall and bloom all summer long Honey Bees, hummingbirds, butterflies, and many other pollinators constantly visit these nectar-rich flowers.  Plant in: May-June for cold winters; April-May for mild winters  Full sun  Sow seeds 1" apart; barley cover  Days to germinate: 10-15 days  Days to harvest: 12-18"  Firefly Farm & Mercantile may substitute suppliers due to availability.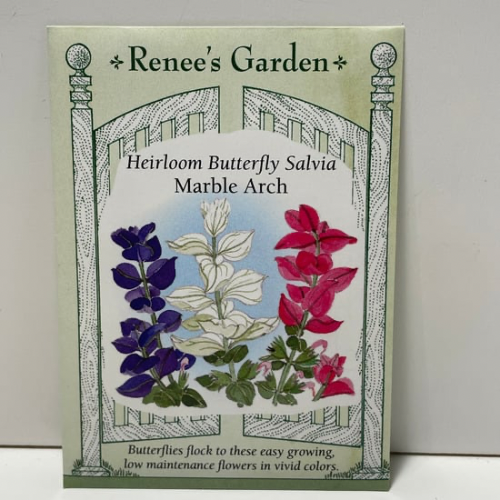 Marble Arch Salvia, Heirloom
$2.95
$3.25
Renee's Garden - Easy to grow, low maintenance, and both pest and disease-free, these easy-care flowers show off their vibrant flags of color in perfectly matched shades of intense indigo blue, rich rose, and pure white. Blooming hard throughout summer and fall, they strongly attract butterflies. Add to fresh bouquets or air dry for everlasting displays. Enjoy in the summer garden and/or grow in containers for beautiful color. Both deer and rabbits avoid these pretty plants.    Characteristics:  Heirloom  Attracts butterflies  Disease-free  Easy growing and low maintenance Vivid colors  Approx 120 seeds   Instructions - Sow seeds in a well-worked seedbed in full sun when all danger of frost is past and weather is warm and settled. Space seeds 4 to 5 inches apart in rows 12 inches apart, cover about 1/2 inch deep, and gently firm soil. Keep soil evenly moist while awaiting germination in 10 to 20 days. Plant in: April - June  Full sun  Plant 1/2 inch deep  Plant 4-5 inches apart  10-20 days to germinate  Mature Height: 2 feet Firefly Farm & Mercantile may substitute suppliers due to availability.